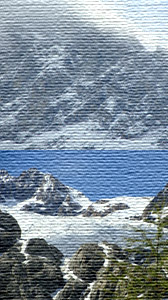 Celebici to Zelena Glava
| | | |
| --- | --- | --- |
| Max altitude : | 2115 m | |
| Total denivelation : | 2700 m | |
| Total distance : | 32000 m | |
| Trekking time : | 14h00 | |
| Landscape beauty : | | |
| Physical difficulty : | | |
| Orientation marks : | | |
| Mine risk : | | |
| | | |
| --- | --- | --- |
| Denivelation map : | | |
Commented pictures of this hike on Picasa (click here to see)

Before to follow this trip, you should know that I made it in 10/11h walking fast and starting before the sunrise, so it's accessible if you have a good condition/orientation, but it's recommanded you bring a light in case the night catch you, or to plan 2 days to make it... Must of people will need around 14h to make it.
Warning: Prenj is still mined in the east part, always make sure you are following the map path.

First of all, you will need to reach Celebici by car and continue with a small road until Odzak/Cosici, you will reach soon a dirt road, try to find a place to park your car.

| | |
| --- | --- |
| | |

At the beginning, the path is large and marked, very easy to follow, you will reach a forest and after 4-5km the marked path disappears, trees have been cut: people are "building" a new dirt road. In october 2011, I have to quit this dirt road around an altitude of 900/940m in order to find the "old" marked path in the forest (but they probably lengthened this road since 2011). At this moment, you will need a good orientation, if you have a gps it should be easier. This part is not mined, so you can make your path in the forest until to find the old one safely.



Continuing on the old marked path, you are now walking in the forest during 1.5km, until an altitude of 1330/1340m. You will join a large dirt path. Follow the path indicated as "Tisovica", it should be well marked.

After 1km since you reach the dirt road, the marked path arrive out of the forest, you will have a beautiful view on Tisovica valley. You will see 0.5/1km later at your right an old farmer house, you should turn left before and continue on the marked path following the valley by the right side.



The path is well marked, after 4km since the old farmer house, you will reach the end of the valley, there you will have to follow the mark "Z.Glava" (indicating 3h). You will start increasing again, after 500m will you reach a forest: this part is dangerous ! As you will see, you will have some mines indication, and just after the road as been cut and bloqued by cut trees (the path is reported as mined at this place, so they blocked it), you will have to avoid the path to the left (at the moment they indicate you to do it). Just after this mined path you will reach the Vrutak hut, this is ideal for a break.



Continue on the marked path, soon you will have an indication to go left for "Kapa" (summit of V. Kapa), but continue straight for Zelena Glava. The landscape will change and quickly you will see no more trees. Maybe 2km after the hut, you will have indication for Otis summit in 1h (but no indication for Zelena Glava), follow the same path as Otis, later you will follow a new indication for Zelena Glava.



Maybe less of 1km after the indication of Zelena Glava, you will reach the "technical" part of the trail: the path stop and you have to go to your right climbing the mountain (easy climb). It's not difficult, but some parts are exposed if you make a bad move. Follow carefully the marks, especially if the weather is not so good. You will need maybe 30min to reach the summit from this point.
When I tried it in october 2011, I was not able to reach the summit, I have to stop 200m before the top : the fog started to be dangerously dense, the storm was approching, so I give up for safety.



I found somebody that made a similar path until the summit of Zelena Glava, it can help : http://www.everytrail.com/view_trip.php?trip_id=1204534