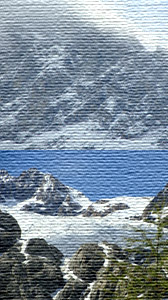 Lukomir from Umoljani
| | | |
| --- | --- | --- |
| Max altitude : | 1600 m | |
| Total denivelation : | 480+/350- m | |
| Total distance : | 10000 m | |
| Trekking time : | 4h00 | |
| Landscape beauty : | | |
| Physical difficulty : | | |
| Orientation marks : | | |
| Mine risk : | - | |
| | | |
| --- | --- | --- |
| Orientation map : | | |
| | | |
| --- | --- | --- |
| Denivelation map : | | |

A pleasant hike until the highest village in Bosnia.

You will have first to reach the ski station of Bjelasnica, after the village continue strike in the main road (coming from Sarajevo), the road will bring you to the south side of the Bjelasnica mountain, continue until the village of Sabici.


When you reach Sabici, continue to Umoljani (road in the middle). Maybe 3 or 4 kilometers after, just before a bridge, you have to turn right to follow a smaller road, continue until Umoljani (first village on this road).



After 1 or 2 minutes, turn to the left and some meters after, again left into a dirt road. You can park your car next to the cemetery.

You start walking and you will quickly reach a farmer village "Gradina", make a right turn to get the direction of the Dugo Polje valley.



You will reach the highest point of this hike before to go down to the Dugo Polje valley, then you will arrive to a new intersection, go to the left and follow this dirt road 6km until Lukomir.