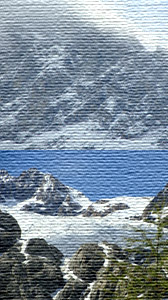 Dzamija summit
| | | |
| --- | --- | --- |
| Max altitude : | 1967 m | |
| Total denivelation : | 670 m | |
| Total distance : | 9800 m | |
| Trekking time : | 3h30 | |
| Landscape beauty : | | |
| Physical difficulty : | | |
| Orientation marks : | | |
| Mine risk : | - | |
| | | |
| --- | --- | --- |
| Orientation map : | | |
| | | |
| --- | --- | --- |
| Denivelation map : | | |

The most beautiful trekking of Visocica/Bjelasnica moutains.

Next to the Marsal hotel in Bjelasnica, you have to continue strike in the main road (coming from Sarajevo), the road will pass throught the mountain in order to go in the valley (south side), continue until the village of Sabici.


In this village, you have to choose between 3 roads, choose the center one. After maybe 10km, the road stop.



The road stop with 2 dirt path, you have to choose the one going to the right. The track is sometimes difficult, after reaching the top of a little moutain, the road go down until a farmer village, you can park the car before the first house.

The first step is to reach the top of the rocky moutain in the west direction, the best path is described by the map below.



From this point, you will have a good view on the Dzamija summit, it's difficult to find a marqued path, it's then important to see your own path with the help of your map.



The hike is sometimes difficult with very small path between the rock, but one time at the summit, you will enjoy the wonderful view.