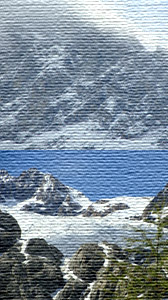 Lokvanjsko lake
| | | |
| --- | --- | --- |
| Max altitude : | 1785 m | |
| Total denivelation : | 700 m | |
| Total distance : | 10000 m | |
| Trekking time : | 3h30 | |
| Landscape beauty : | | |
| Physical difficulty : | | |
| Orientation marks : | | |
| Mine risk : | - | |
| | | |
| --- | --- | --- |
| Orientation map : | | |
| | | |
| --- | --- | --- |
| Denivelation map : | | |

A good trekk to discover the landscape beauty of the Bjelasnica area. At the summit you will access to a lake lost in the mountain.

To go at the departure of this hike, you have to go first to a little village called Lokve, passing by Zovik. Zovik is situated after Hadzici when you come from Sarajevo, you will have to make a left turn 4km after Hadzici, the road is difficult to see because not indicated, but 50m meters before the left turn, you will be able to see a bar called Zovik, this is your clue.


One time you reach Lokve, make a right turn just before the mosque, you have to continue 9 km using a "bad road", you will arrive to a large parking marked "Salihagina Bajta".



To go until Lokvanjsko jezero, you have to follow the Stanari hut direction, and turn left 100-200m just before to reach it. To go there, you have to pass through a forest, several time you have choice between different way, but the way until Stanari is well indicated.



You will arrive above the forest, continue on the path going directly to the stanari hut. 100-200m before to reach Stanari hut, you will find a colored house, turn left, from this point the lake path is well indicated. You will walk 15-20 minutes though a little forest and arrive at a large open grassland.



From this point, almost all marks are noted on little rocks in the floor, so very difficult to see if you have more of 10-15cm of snow (in this case, before to take a map to find your way by compas), you should go generally to the east. After 15-20 minutes, you have choice to go left or right, you should go left, you will arrive after 10-15min to a rock with the mark "LJ" and the direction to go.



Marks will bring you until a little valley, at the end of this valley (after 15-20 minutes), look carefully to find the marks, it should be in your left, you have to go east again and walk into a pleaant forest of little trees.



The lake ! I guess during summer it is more colorfull.